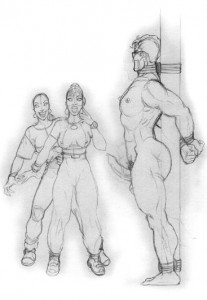 5-15-2014
Over the years I've had numerous requests to make some drawings of men in bondage. Although my own preferences are toward female subs, I have occasionally given it a try. And so I can now offer you a small collection which has accumulated over the last few years; new in the shop: Male Bondage 1!
Although it may not be for everyone, it has been made for at least some sort of public demand.By the way, the covers in this collection are, as usually fake: they cover non existing magazines.
Well, I'm curious if there will be any takers; anyway, here's to all those ladies who's pleas have fallen on deaf ears for so long!
COCO
CBAP