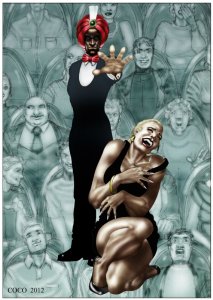 We're back! After half a year, we're back. With a new, and improved, more modern site! With a huge 'Thank you!' to our webmaster, who has been working tirelessly to make it happen! Apart from that, we want to thank all of you who kept supporting us during this journey through the dessert, and those of you who stayed in contact, checking back regularly to see how we progressed. Thank you all very, very much!
Now, let us fill you in about the changes that come along with the new site. To get the most unpleasant one out of the way first: after twelve years of keeping the price level at $10.00, we're now raising it to $12.50 a month. BUT... we are also introducing the possibillity to sign up for three months at $ 32.50, or for six months, for $60.00. Also, at a later stage, we are planning to offer limited access opportunities for as little as $5.00, so that we have something to offer for everyone.
VERY IMPORTANT:
We have to ask each and everyone of you to, for once, sign up anew, because once the old site closes down, your log in's won't work anymore. Your new membership will be recurring, that stays the same, but of course you can cancell at any time; either by going to the unsubscribe button, or by mailing us. The gateways also stay the same, Paypal and CCBill, although we are working on different forms of credit card access. We'll keep you informed.
NEW
There is also going to be a change in how the site is updated. In stead of awaiting a multiple update over four or five sections, you are now invited to go to the NEW page, where new work will be published regardless of it's character. It can be a color drawing, a sketch, a comic page.... it can be anything, and it might take a week for something new to show up, but it may also be there the next day, so you're encouraged to check it out regularly!
This editorial will be more like a blog from now on, not only addressing what's new on the site, but spreading it's wings out a bit further...
SHOP
And finally: talking about change, there is: THE SHOP! Where you will be able to find some of your favorite comics, but also some BRAND NEW stuff, like the first Jason McMasters story (illustrated by Coco) or the new Coco Bondage scene's I album, or the collected POW covers. All presented as E-Books, in PDF Format. For the moment, the shop is only supported by Paypal, but again, we are working on other gateways: stay tuned! It is not very large right now, but this store is going to grow rapidly, so keep checking it out!
Finally, on a personal note, a word from Coco:
As mentioned above, I can not thank enough the members who have stayed with me through thick and thin, mailing me, encouraging me... it was awesome! Thank you all so very, very much! And for now, after this long stand still, for you, and hard work, for us, like one very important member of our team said: "This is not the end: it's only the beginning!" I hope we will travel along, together, for a great long time!

COCO
CBAP