Celebrating artists before Bishop 2
09-22-2021


One thing I like about Mario's work is his inventiveness. Although we only have a few examples of that, due to his very small body of work, I think it is important to point them out.
The first example is the one where the model's arms aren't necessarily tied behind them, but they are forced to keep them there just the same, in order not to strangle themselves. It reminds me a bit of the strapless ball gag from Bishop, where the women are forced to gag themselves ( I've done an editorial on that also).
Speaking of gags, I have never encountered this very special design anywhere else. It is a gag as part of a collar but in a very unique way.



And the latest invention I would like to mention is this very clever 'keep your head bowed down' device. Notice how here also the collar is put to good use. Without it, the weight could possibly turn the head in the other direction, snapping the woman's neck. Safety first...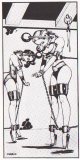 Coco
(to be continued)
Updates in New, Black and White, the Sketchpage and the Combipage. And there is a new short story under New.
Enjoy,
CBAP
Please support Coco's art at: